Why Kolar Toyota?
Local, family-run business
Serving the Northland for nearly 50 years
Large multi-lot pre-owned vehicle inventory
Long-tenured, dedicated staff
Ten time winner of the Toyota Presidents Award for outstanding customer service
Amenities to make you feel at home: free WiFi, Free ipad use, big screen televisions, free coffee & popcorn.
Service Department
Rental cars and free courtesy shuttle service
Certified technicians
Dedicated and knowledgeable Service Advisors
Convenient hours including extended Saturday hours
On-line scheduling
Combined experience well over 100 years
Parts Department
High quality manufacture parts with applicable warranties
Highly motivated, career minded staff
Large selection of Accessories for your vehicle
Over-the-counter purchase options
Sales Department
Toyota Certified Sales professionals
Experienced, friendly staff
No pressure sales process
Finance Department
Over 30 lenders available to you for financing options
Dedicated staff working to find you the best financing
A great story about one of our founders Bernie Kolar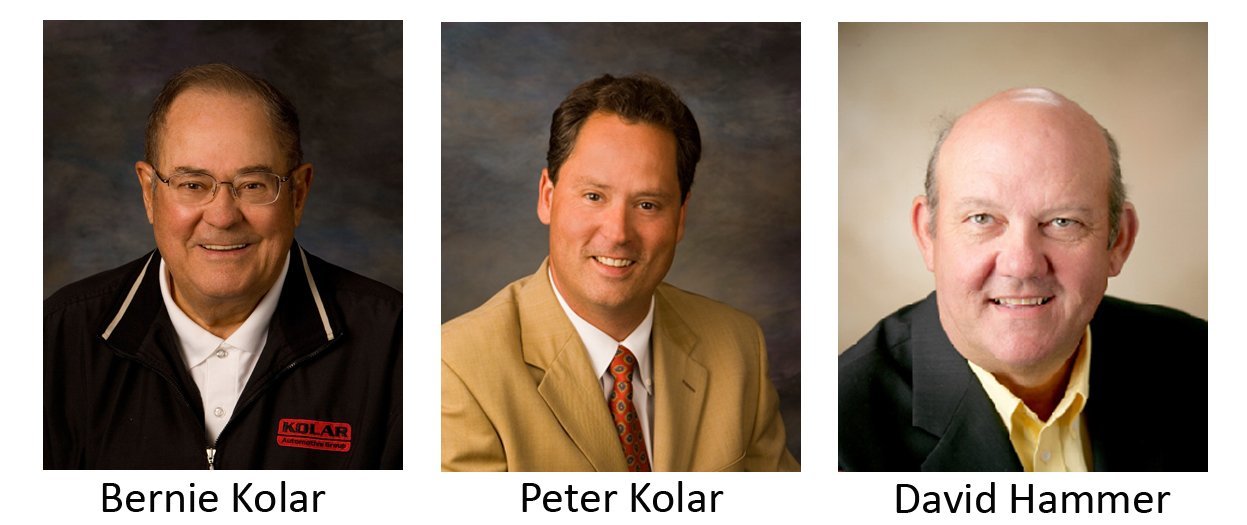 Written by Wade Petrich
It is not uncommon to hear a lot of nice stories about people publicly. Sometimes the stories changes in a private setting. I have heard many people praise someone at a press conference and then rip him or her up and down behind closed doors.
During the Kolar Autoworld groundbreaking ceremony last month I heard many great stories of Bernie Kolar and the wonderful things he has done in the community. Duluth Chamber President David Ross talked about how active he is in his church. State Rep. Mary Murphy stated that customers get a fair deal at Bernie's dealerships.
As many speakers at the groundbreaking ceremony talked the talk about Bernie over and over again, I found out later he truly walks the walk.
A private conversation several days after the ceremony revealed an even better story about the man. It showed me a side of the man that is something special.
A long-time employee recalled a time when Bernie learned that someone was stealing cash from his dealership near Christmas time. The belief from others was that those responsible should be fired, immediately.
Bernie had another take.
It was the holidays, and those who were being accused of stealing were dealing with hard financial times. While some on the staff were looking for retribution, Bernie wanted compassion. Those involved were not fired for what they had done. The only thing Bernie removed was their ability to steal further. They still had their jobs.
During the time of Christmas, Christians are supposed to do the right thing. Being a man who is strong in the Catholic faith, Bernie did the right thing.
I have interviewed and spoken with thousands of people over my career. There have been countless uplifting stories that people have told me about themselves or others. This has to be one of the most special ones I have ever heard.
Many of us want to believe successful business people are ruthless and spend all their free time counting their money. It is easy for Americans, who by and large embrace the capitalist system, to accept that an individual with a strong financial portfolio robs from the blind and kicks puppies. Bernie is the kind of man who helps the blind man across the street and then gives away puppies to young kids who could normally not afford them. In fact, Bernie would probably help them with future vet bills.
This article might make Bernie a bit uncomfortable, because many have told me he is humble and does not want to bring attention to himself. In other words, he is comfortable in his own skin and does not feel the need to tell others how great he is. I had to question myself whether I could have turned the other cheek if someone was stealing from me. I want to think I would, but I have not traveled down that road yet. In a society where we too often resort to jealousy and greed, Bernie has been able to rise above it. Other than the name, I do not know Bernie that well. But after hearing that story I wish I knew him better. All of us want to surround ourselves with good people who can make a difference. In our community, Bernie has done just that.
From the stories I heard at the groundbreaking to the one I heard later, Bernie is genuine. He is a rare breed. As a writer, when you meet and learn about people like Bernie it gives you energy in your job for years. His story has uplifted me and gives me strength to find others with similar stories. Bernie will likely tell you there is nothing special about him and that there are many others just like him. I have no doubt that this is true, but that does not make me stop believing he is one of a kind.
Wade Petrich is the editor of the Hermantown Star.